Net Gun
Since 2005 - Worldwide delivery by DHL - Shop with confidence
Net Gun or Net Launcher is a portable equipment (looks like an oversized flashlight) that is non-lethal, safe and effective for animal capture without hurting them (birds, dogs, ducks. etc) or law enforcements (security officers, police etc).
Buy Now
It is NOT considered as a weapon or gun. It does not involve gun powder, explosive or other dangerous materials.
Capture distance is up to 20 meters.
Product weight: approx 1 kg.
Powered by: Non-threaded 16g CO2 Cartridges (sold separately).
The net are re-usable and re-packable.
Suitable for: zoo staffs, council animal control officers, animal research organisations, building maintenance staffs, etc.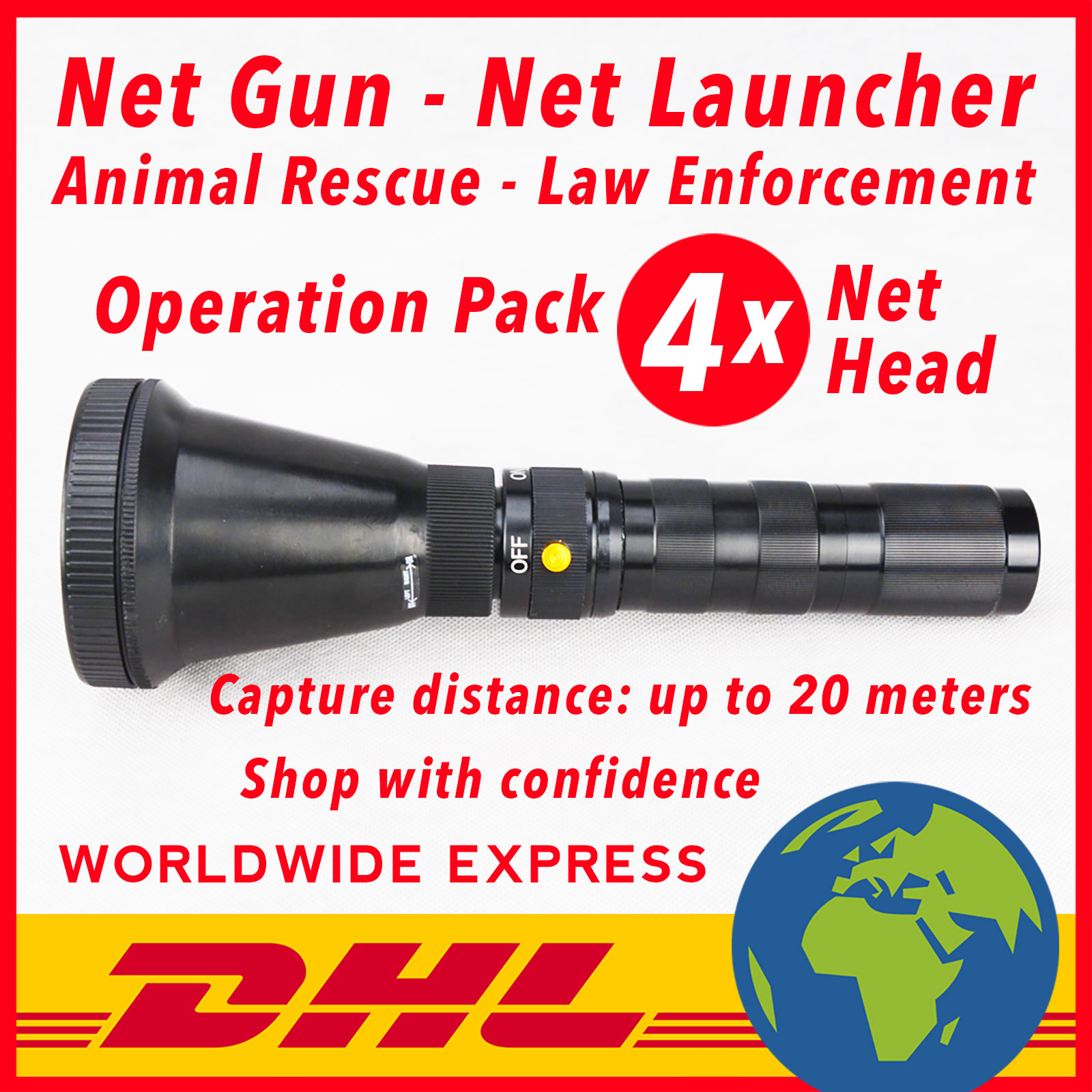 View More Images & Videos
Buy Now
Includes
1 handle
4 net head (preloaded and ready to use)
1 case
Net Mesh Size Specification
Extra Small Net - Mesh Hole Size: 2.5cm x 2.5cm - Net Dimensions: 1.8m x 1.8m
Small Net - Mesh Hole Size: 7.5cm x 7.5cm - Net Dimensions: 3m x 3m
Large Net - Mesh Hole Size: 18cm x 18cm - Net Dimensions: 3.25m x 3.25m
Buy Now
-
View Cart
## Normal Price USD 1,299 ##
## Net Gun for sale USD 595 - October 2016 Promotion with FREE Delivery ##
## Limited Time Only - Delivery by DHL Express with Online Tracking ##
Net Mesh Size Options
Please note that we do not deliver to PO BOX addresses.
Accessories
Extra Small Net - 2.5cm x 2.5cm - Net Dimensions: 1.8m x 1.8m
USD 94 Including Delivery - Add to Cart
CO2 Cartridges
You need to purchase CO2 separately. Make sure you use non-threaded and 16g version. You may damage the product if you use the threaded version.
It is available widely at leading bicycle stores (cyclist use it to Inflate a bicycle tire). You may also find it on eBay.
Usually it costs around $1.3 to $2.2 per cartridge. If you have difficulties to find local suppliers, feel free to contact us, we'll try our best to assist you.
More Details
Capture distance: up to 20 meters
Coverage space: 16 square meters
Product size: 118 mm (head) x 48 mm (handle) x 338 mm (length)
Product weight: 1.03 kg
Packaging size: 46 cm x 32 cm x 20 cm
Packaging weight: 4.3 kg
Traction head quantity: 4
Power delivery: air bottle / compressed air via co2 cartridge
Air bottle pressure value: 2.8 +/- 0.2 mpa
Government, Education or Corporate Clients
If you need a formal quotation or payment via bank transfer, please email us at support@net-gun.com. If you have any questions feel free to contact us.
For large orders, we provide volume discounts.
Download
If you have any inquiries feel free to contact us (
support@net-gun.com
). Our team will try our best to respond as soon as possible. Thank you.
More Images & Videos